I plan to follow outdoor friends to Mount Lawu (3265m) at Central & East Java border this August. After the first experience climbing a volcano in February (Mount Merapi, 2968m) I am looking forward for this trip. This time I must come prepared, mentally & physically.
I am writing this blog to prepare myself of what to expect at Lawu especially. Please read this nice short stodry about Lawu & Sarangan Lake here.
We will depart to Solo (previously known as Surakarta) on 31st July (Wed). We will straight away travel to Mount Lawu & will begin the journey immediately. Lawu is considered as 'tourist' mountain. So we don't expect much difficulty. More info about Lawu is available here and some maps & images are here.
We will take the Cemoro Sewu route I guess. All in all, we have to trek for about 7 km. Estimated time is 6-8 hours especially for not-so-adventurous person like me. Got more info from Indonesia Backpacker website.
Cemoro Sewu (Monitor Post) – Post I = 1.99km
Post I Wesenan – Post II = 2.00km
Post II Watu gedhek – Post III = 0.7km
Post III Watu Gedhe – Post IV = 1.2km
Post IV Watu Kapur – Post V = 0.3km
Post V Jolotundo – Summit = 0.8km
We will camp at the summit and will descend the next day, Thursday. If not mistaken, we will stay one more night at Sarangan. More about Sarangan here. I think we can span more time at Sarangan for good pictures especially street shooting & landscape.
After Sarangan, we will travel to Malang which is already in East Java. The distance from Sarangan to Malang scares me. I expect 6 hours van ride!! In East Java, we plan to climb 2 more mountains, Kelut & Bromo. But we reckon this will be a rilex journey. Bromo is a very popular volcano. Just google for it, you'll get many pictures & stories. Kelut is a different story. I first heard it from Arey, another OGKL veteran, and later when my Indonesian friend, Unggul, from Engineering IIUM told me recently. Since it is not that far from Bromo, we better consider this mountain.
My friend, Remi from EcoTravelogue actually planning to bring us to Kawah Idjin. That's at the other end of East Java. I am perplexing about this idea when I studied the exact location looking at the atlas given by Paei yesterday. I predict, it will be easily another 6-8 hours uncomfortable van ride to reach Kawah Idjin.
Where is where? I found a very good map as below….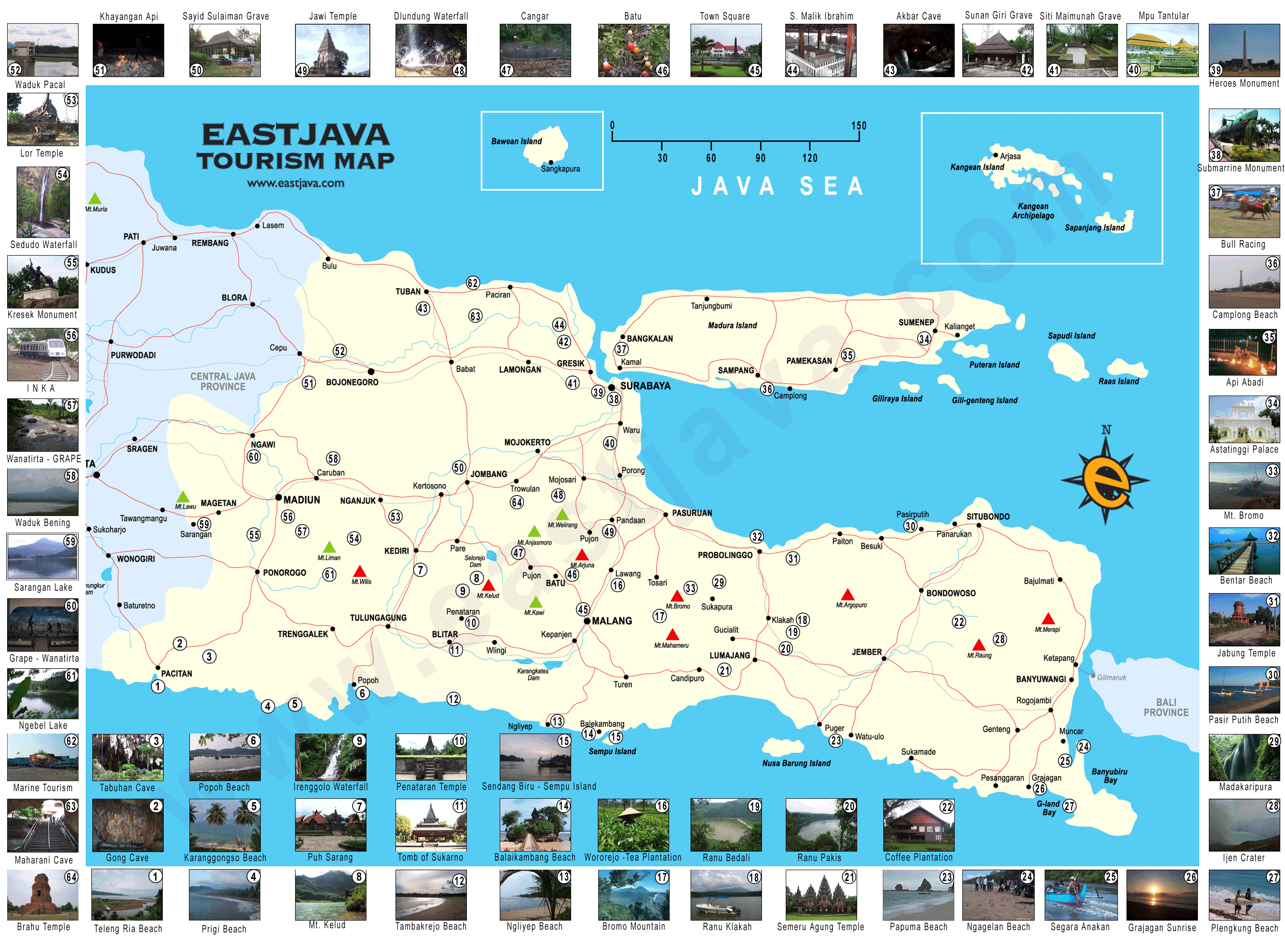 The hi-res image available here.