Tag Archives:
trekking
Wah…..crazy….really crazy. Initially thinking of going to Dieng-Sindoro but AirAsia 1 million free seats changed everything. We have to decide fast as the free seats are disappearing very fast! It started when Remy sms-ed me whether I had remove Bali-Rinjani from 2009 project. I said no….but I can't find a good time. He told me he prefers Bali over Dieng…..then I called Arey for a 'second opinion'. Arey also like to go to Bali & Rinjani…..
So that was it. After a few calls between me-Remi-Arey, I bought 7 air tickets to Denpasar!! We will go to Bali & climb Mount Rinjani on 30th June – 6th July 2009!!
The boss for this trip is Mas Arey and he told me that we can accomodate up to 15 people. So far, the following have confirmed:
1. Me
2. Ali
3. Jasni
4. Kavalera
5. Nizam
6. Remi
7. Arey
8. Abahko (New)
9. Marjan (New)
In the KIV list are 2 members. They'll wait if AirAsia open for another offer next year!
The itinerary maybe something like what Remi had stated in our Flickr…
day 1
- flight departed to bali in the morning. 3 hours flight
- arrived at bali noon, took fokker to mataram, in the island of lombok
- packing up at a friend's place and proceed to rinjani basecamp that evening.
- arrived at rinjani's basecamp at about 10/11 pm. sleepover

day 2
- say hello to rinjani and start trekking by 8/9 am
- we proceed to the last post @ campsite in which we arrived around maghrib
- dinner and sleep

day 3
- woke up early at 3 am and accent to the summit.
- will arrived somewhere 6-7 am.
- descent to last campsite and will arrive around 10-11 am.
- lunch @ 12, descent to danau segara anak @ 2 pm
- arrived at segara anak around 5/6 pm. This really depends on weather. it is somewhat slippery.
- set up tent, maybe some may want to go fishing, the fish is really big
- sleepover

day 4
- woke up as usual 5/6 am
- breakfast @ cook lunch
- descent to last basecamp at 9 am.
- the last group arrived at 5 pm ( me )
- might say that this last part of the journey is the best, the view is far far superior than lawu.
- transport to friend's house to sleep over

day 5
- proceed to bali via ferry…this took 6 hours
- from bali, proceed to agung, the rest of team continue to climb agung except for me, <– the traitor…ahhahaha.
- i slept over at a friend's house in bali.

day 6
- pick up all those ppl from agung
- proceed to kintamani ( this is a high place like cameron )
- proceed to pasar seni…forgot la the name
- proceed to airport
- fly back to kl
Many pictures available in the flickr….
So, Rinjani…here we come….
However based on the level of difficulty, I would suggest that all members who are going for this trip to adhere to these recommendations:
1. Exercise. We should not cause problem to other members or the guides. Looking at what happened during Mt Lawu expedition, even the toughest mountaineers can handle certain amount of load only. They may not be able to help us all the way.
2. Teamwork. This is very2 important. We should ensure all the team members reach the destination on time. After this, I would suggest experienced mountaineers to teach us & to organise us into suitable teams.
3. On time. Also important that we should limit our rest or even photo shooting to certain time frame. If the journey taken too much of the time than expected, we may become too exhausted to trek. Having said that, we should not rush to get to the top as most of us are no real mountaineers. We are humble photography hobbyist who love to climb mountains….
4. Limit the load. Don't bring battery charger to the summit ok?
But I have solar charger…that's different story. For Rinjani, I guess, at the most, 2 pairs of cloths are enough. Infact, one is enough. I think, plus the camera & water mebbe, 15 kg should already be too heavy! Wow….my camera stuff already 5 kg!! The tent is another 3 kg. If 5L of water….that 13kg already.
Peh…this too early to discuss the detail…but I am too excited…..
I must be crazy but I wish to plan itinerary for the next trip! It can be the basis for discussion with Mas Kaboel.
Day 1 (Preferably Saturday)
0845 Board AirAsia AK6381 from Kuantan to LCCT
1335 Board AirAsia AK1004 from LCCT to Yogjakarta
1525 Arrived at Yogjakarta Airport
1630 Travel straight to Dieng Plateau (estimated 6 hours journey).
Route: Yogja-Magelang-Temanggung-Wonosobo, unless there is a shortcut!
2200 Arrived at Dieng Plateau – overnight here
Day 2
Visit places at Dieng Plateau from sunrise to sunset
Day 3
0500 Travel to Mt Sindoro basecamp (braekfast along the way)
0700 We should be able to start the trekking (approx 6-7 hours, should be max 12 hours)
(maybe via Kledung, and trekking down via Sigedang – I don't know which one is better)
1900 Should reach the last Post by now. Camping here.
Day 4
0500 Ascend to the summit – still not sure the exact route
0700 Should be able to go back to the tent & packing
0800 Trekking down
1900 Arrived at basecamp.
If we can sleep there, we just sleep there, else have to check-into the nearby hotels in Wonosobo.
Day 5
0500 Travel to Yogjakarta (5 hours drive)
1000 Arrived at Yogjakarta. Can visit outdoor boutique or Malioboro again.
Lunch & solat there.
1400 Drive to airport.
1555 Board AirAsia AK1005 from Yogjakarta to LCCT
1925 Arrived at LCCT
1200 Board the last bus to Kuantan! Or with a MAS SuperSaver, we can fly using MAS.
This trip is a 'santai' trip. I don't like sleeping inside a van. So we should plan our travelling nicely. And we need good sleep especially before & after the tiring trekking. So who are with me for this trip?
A picture of Sindoro…..from flickr
Sindoro & Sumbing (The Twin SUSI Mountains)….maybe Arey & Paie would want to skip Dieng & attack Sumbing then together we can go to Sindoro…
How about the view from the top?
Some references:
1. http://www.joglosemar.co.id/mt_sindoro.html
2. http://isackfarady.wordpress.com/2008/07/06/back-packing-to-sindoro-sumbing-part-i/
3. http://blog.kenz.or.id/2005/05/16/slower-rain-pendakian-gunung-sindoro-6.html
About the flight…
Just a teaser….
So for flight from LCCT-JOG, its about RM400 each….and for KUA-KUL returns flight, super saver price…If AirAsia offers special price, or RM0 fare, then without further ado, I'll buy the ticket!
About extra RM200 per person if we want to fly from Ktn-KL…emmmm….but the journey will be more comfortable. Since it will be a long time till Feb July 2009…we should start saving….
Update: What a coincidence. Just musing about AirAsia's promotion….but it will be in my busiest months of the year!
About the date…
Can you all see the date?
7-11th Feb is OK? Meaning 3 working days. So need to apply 3 days leave. Need longer time?
OK here is a snippet about Java climate…
So, its true April-August is the best time to visit Java. And its coincide with AirAsia offer….so I will finalise the date & it should be in July 2009. Wah…another one complete year!!
Maybe mid-July we will go to Dieng-Sindoro. As for Bali-Rinjani……I don't know. One trip per year should be OK I guess……
About the people…
For 'petualang' from Kuantan OK or not?
We should aim for max 9 people for this trip, as this is the most cost-effective number. Oh btw, we need people who can setup tent, willing to cook (teh hangat…..boil the canned food….those simple stuff) & willing to carry maybe upto 15kg backpack. If we can get a proper porter than we can hire one. Else we have to carry stuff ourselves.
Muahahahaha…..4 people already given me their names….
1. Me of course
2. dR ali
3. Nizam
4. Kavalera –> the first to confirm
5. Jasni
Jasni, are you coming?
Remi, you can fill-in the rest. That's quota for Orang Gunung! Else many Orang Gunung wannabe wanna go.
About the gears…
I plan to bring my 35L Future Deuters instead. And a usual travel slig bag. Because from the previous experiences, most of the time the bag will be at the top of the van. And when we trek, we only need to bring a pair of cloth, the tent, water (maybe) & taht's all. The rest are camera stuff.
I think I am crazy…..
I plan to follow outdoor friends to Mount Lawu (3265m) at Central & East Java border this August. After the first experience climbing a volcano in February (Mount Merapi, 2968m) I am looking forward for this trip. This time I must come prepared, mentally & physically.
I am writing this blog to prepare myself of what to expect at Lawu especially. Please read this nice short stodry about Lawu & Sarangan Lake here.
We will depart to Solo (previously known as Surakarta) on 31st July (Wed). We will straight away travel to Mount Lawu & will begin the journey immediately. Lawu is considered as 'tourist' mountain. So we don't expect much difficulty. More info about Lawu is available here and some maps & images are here.
We will take the Cemoro Sewu route I guess. All in all, we have to trek for about 7 km. Estimated time is 6-8 hours especially for not-so-adventurous person like me. Got more info from Indonesia Backpacker website.
Cemoro Sewu (Monitor Post) – Post I = 1.99km
Post I Wesenan – Post II = 2.00km
Post II Watu gedhek – Post III = 0.7km
Post III Watu Gedhe – Post IV = 1.2km
Post IV Watu Kapur – Post V = 0.3km
Post V Jolotundo – Summit = 0.8km
We will camp at the summit and will descend the next day, Thursday. If not mistaken, we will stay one more night at Sarangan. More about Sarangan here. I think we can span more time at Sarangan for good pictures especially street shooting & landscape.
After Sarangan, we will travel to Malang which is already in East Java. The distance from Sarangan to Malang scares me. I expect 6 hours van ride!! In East Java, we plan to climb 2 more mountains, Kelut & Bromo. But we reckon this will be a rilex journey. Bromo is a very popular volcano. Just google for it, you'll get many pictures & stories. Kelut is a different story. I first heard it from Arey, another OGKL veteran, and later when my Indonesian friend, Unggul, from Engineering IIUM told me recently. Since it is not that far from Bromo, we better consider this mountain.
My friend, Remi from EcoTravelogue actually planning to bring us to Kawah Idjin. That's at the other end of East Java. I am perplexing about this idea when I studied the exact location looking at the atlas given by Paei yesterday. I predict, it will be easily another 6-8 hours uncomfortable van ride to reach Kawah Idjin.
Where is where? I found a very good map as below….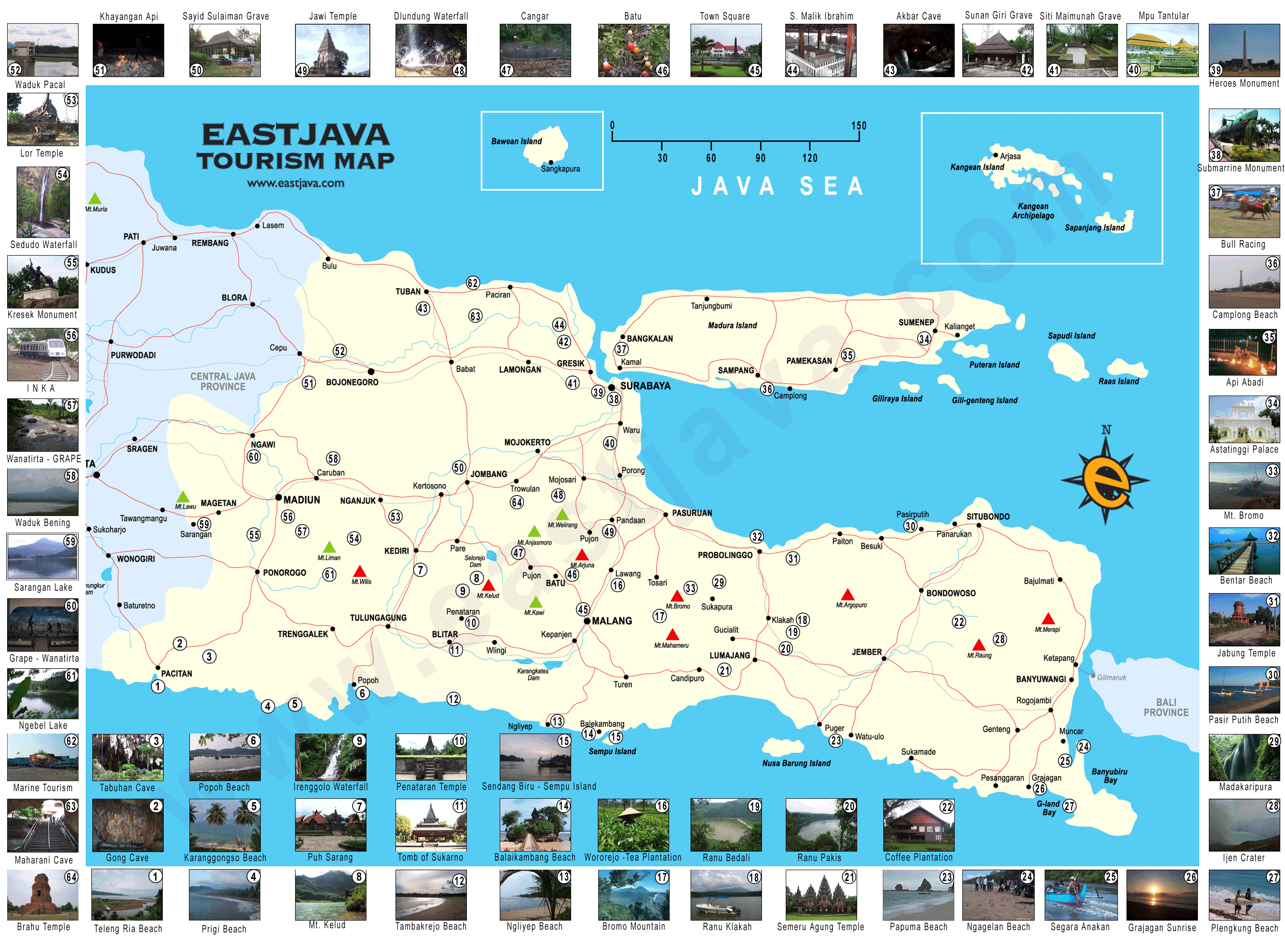 The hi-res image available here.